Social Firm Support Center
Provides support in various forms according to needs to promote the establishment of social firms and their activities.
Inquire or make an appointment
+81-3-5211-1600
Hours
Mon.–Fri. 10:00 a.m.–12:00 p.m., 1:00 p.m.–4:00 p.m.
Closed
Saturdays, Sundays, holidays, year-end/New Year holiday
Address/Access
Kudan VIGAS Bldg. 2F, 1-10-9 Kudankita Chiyoda-ku, Tokyo
Tokyo Metro Tozai Line, Hanzomon Line, Toei Shinjuku Line
2 min. walk from Kudanshita Sta., Exit 5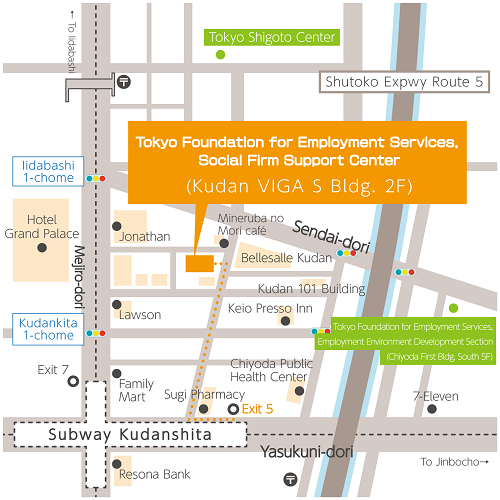 What is a Social Firm?
A social firm is a work integration social enterprise (WISE) that autonomously engages in economic activity and hires individuals who face major barriers in the labor market to receive any needed support and work alongside other employees.
Social firms were first set up in the 1970s in Italy to employ large numbers of work-disadvantaged people.
Today, work integration social enterprises like these exist around the world, known as social firms. At present there are approximately 10,000 social firms across Europe, including Germany, England, and France, while in South Korea there are approximately 2,000 such firms.
These social enterprises have developed as workplaces for people with physical and developmental disabilities and others who are at a disadvantage in the labor market to work alongside other employees.
Support for Social Firms
The Tokyo Foundation for Employment Services provides support to businesspeople and others interested in establishing and running a social firm, and to social firms certified by the Metropolis of Tokyo, for the purpose of advancing social firms.
What Are Tokyo Metropolis-Certified Social Firms?
Tokyo Metropolis-certified social firms are business enterprises that have received certification from the metropolitan government after fulfilling all certification criteria.
Main Certification Criteria
The business:
Operates on business income as its main source of revenue
Has three or more employees who are work-disadvantaged individuals, comprising 20% or more of its total employees
Has disadvantaged individuals work together with other employees in the workplace
Has personnel present who are capable of providing support as needed to those disadvantaged individuals
Has corporate status as an operational business organization
Types of Support Provided by the Social Firm Support Center
All services are provided free of charge
Business Startup Consultation and Information Provision
Consulting is offered to people interested in starting up a social firm, and information is provided on such matters as certification criteria, support measures, and successful business models. As required, specialized support organizations are introduced.
Operations Consultation
Specialists are selected to address the issues and needs of certified social firms and provide consulting on business operations and the hiring of individuals classified as work-disadvantaged.
Seminars
Seminars are held for individuals considering starting up a social firm and those with an interest in social firms to introduce the undertakings of other enterprises, overseas models, and more.